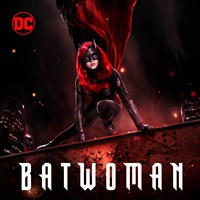 Beskrivelse
Armed with a passion for social justice and a flair for speaking her mind, Kate Kane (Ruby Rose) soars through the shadowed streets of Gotham as Batwoman. But don't call her a hero yet. In a city desperate for a savior, she must first overcome her own demons before embracing the call to be Gotham's symbol of hope.
Afsnit
5. Mine Is a Long and Sad Tale
6. I'll Be Judge, I'll Be Jury
9. Crisis on Infinite Earths: Part 2
10. How Queer Everything is Today!
11. An Un-Birthday Present
14. Grinning From Ear to Ear
16. Through the Looking Glass
18. If You Believe In Me, I'll Believe In You
19. A Secret Kept From All the Rest
Yderligere oplysninger
Undertekster
Dansk
English (CC)
Varighed
20 episoder (14 t 4 min)