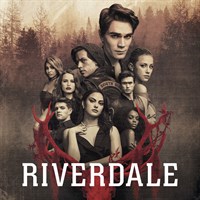 Beschreibung
In season two of Riverdale, tensions between the North and Southside were at an all-time high—stoked by Hiram Lodge with the help of Reggie Mantle, and intensified with the Black Hood's unexpected re-emergence. A civil war seemed imminent. A riot brought out the worst (and best) of Riverdale and its citizens and culminated in the shocking arrest of Archie Andrews. In season three, it's the start of Junior year and the gang is forced to think about something new—their future. But with Hiram now in control of the Southside, Archie on trial for murder, and complicated romantic relationships forming, fans can expect a gripping start to the new season.
Folgen
1. Chapter Thirty-Six:"Labor Day"
2. Chapter Thirty-Seven: "Fortune and Men's Eyes"
3. Chapter Thirty-Eight: "As Above, So Below"
4. Chapter Thirty-Nine: "The Midnight Club"
5. Chapter Forty: "The Great Escape"
6. Chapter Forty-One: "Manhunter"
7. Chapter Forty-Two: "The Man in Black"
8. Chapter Forty-Three: "Outbreak"
9. Chapter Forty-Four: "No Exit"
10. Chapter Forty-Five: "The Stranger"
11. Chapter Forty-Six: "The Red Dahlia"
12. Chapter Forty-Seven: "Bizarrodale"
13. Chapter Forty-Eight: "Requiem for a Welterweight"
14. Chapter Forty-Nine: "Fire Walk With Me"
15. Chapter Fifty: "American Dreams"
16. Chapter Fifty-One: "Big Fun"
17. Chapter Fifty-Two: "The Raid"
18. Chapter Fifty-Three: "Jawbreaker"
19. Chapter Fifty-Four: "Fear the Reaper"
20. Chapter Fifty-Five: "Prom Night"
21. Chapter Fifty-Six: "The Dark Secret of Harvest House"
22. Chapter Fifty-Seven: "Survive the Night".
Zusätzliche Informationen
Untertitel
English (Untertitel)
Veröffentlichungsjahr
2018
Dauer
22 Folgen (15 Std. 25 Min.)