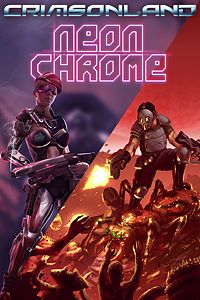 Crimson Chrome Bundle
10tons Ltd.
Description
Get two outrageously good twin stick shooters at a great price! Neon Chrome is a ruthless cyberpunk top-down shooter with roguelike twists, cybernetic enhancements, procedurally generated levels, destructible environments and thrilling boss battles. Can you stop the Overseer? Crimsonland is a cult classic arena shooter with massive hordes of hundreds of enemies on screen at the same time, dozens of weapons, immensely gratifying powerups and addictive online leaderboard competition. How long will you survive?
Available on
Capabilities
Local co-op
Local multiplayer - (4)
Additional info
Release date
2016-10-21T00:00:00.0000000Z
Installation
Install on your home Xbox One console plus have access when you're connected to your Microsoft account.


Sign in to report this game to Microsoft