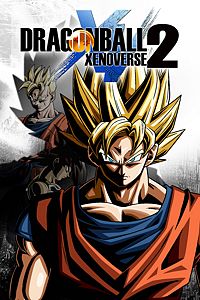 DRAGON BALL XENOVERSE 2
Published by

BANDAI NAMCO Entertainment

Price

On sale information

Product distribution
Description
DRAGON BALL XENOVERSE 2 gives players the ultimate DRAGON BALL gaming experience! Develop your own warrior, create the perfect avatar, train to learn new skills & help fight new enemies to restore the original story of the DRAGON BALL series. Join 300 players from around the world in the new hub city of Conton & fight with or against them.
Available on
Capabilities
Online co-op
Local multiplayer - 2 players
Online multiplayer - 2 to 6 players
Additional info
Published by
BANDAI NAMCO Entertainment

Release date
2016-10-25T00:00:00.0000000Z
Approximate download size
14.71 GB
In-app purchases
Free - $29.99
Installation
Install on your home Xbox One console plus have access when you're connected to your Microsoft account.


Sign in to report this game to Microsoft