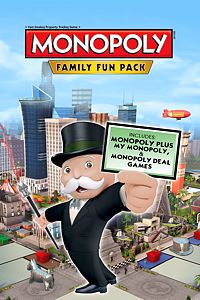 MONOPOLY FAMILY FUN PACK
Published by

Ubisoft Entertainment®

Price

On sale information

Product distribution
Description
A new era of Monopoly for home consoles! The Monopoly Family Fun Pack gathers the 3 Monopoly Games: - Monopoly PLUS: the classic Monopoly with a 3D animated board! - My Monopoly, to create your very own board - Monopoly Deal, a fast-paced and addictive Monopoly card-game Enjoy the classic Monopoly in new fun ways, with your friends and people all around the world!
Additional info
Published by
Ubisoft Entertainment®

Release date
2014-11-18T00:00:00.0000000Z
In-app purchases
$2.99 - $9.99
Installation
Install on your home Xbox One console plus have access when you're connected to your Microsoft account.


Sign in to report this game to Microsoft