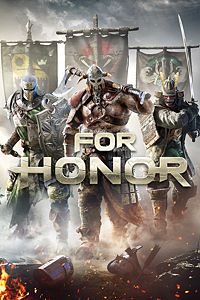 Xbox One X Enhanced
FOR HONOR™ Standard Edition
Ubisoft
Description
Carve a path of destruction through an intense, believable battlefield in For Honor. • UNIQUE WARRIORS TO MASTER Choose your warrior amongst a variety of bold Knights, brutal Vikings and deadly Samurai, each with their own weapon set and play style. • MEMORABLE STORY MODE Storm castles and fortresses in massive battles and confront deadly bosses in intense duels to ensure the survival of your people against a mysterious deadly foe. • CONQUER FOES ALONE OR WITH FRIENDS For Honor offers an engaging single-player story mode and thrilling multiplayer. • INNOVATIVE ART OF BATTLE CONTROL SYSTEM Wield the weight of your weapon and feel the power of every strike through this system, putting you in total control. • YOUR WARRIOR, YOUR COLORS Customize each facet of your warrior, including your chest, shoulders, and helmet.
Available on
Capabilities
Xbox One X Enhanced
Online multiplayer - (1-8)
Online co-op
4K Ultra HD
Additional info
Release date
2017-02-14T00:00:00.0000000Z
Approximate download size
48.06 GB
In-app purchases
$9.99 - $39.99
Installation
Install on your home Xbox One console plus have access when you're connected to your Microsoft account.


Sign in to report this game to Microsoft