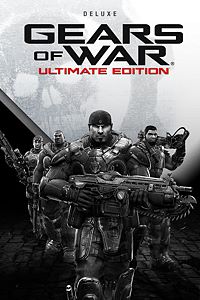 Gears of War Ultimate Edition Deluxe Version
Published by

Microsoft Studios

Price

On sale information

Product distribution
Description
Once purchase is complete, download this game by selecting the "Manage" button on the product details page on your console. The landmark original Gears of War returns, stunningly remastered and modernized for Xbox One. Includes base game, Deluxe Weapon Skin Pack and Aaron Griffin character for use in multiplayer matches.
Available on
Capabilities
Local multiplayer - 2 players
Local co-op
Online co-op
Online multiplayer - 2 to 8 players
Additional info
Published by
Microsoft Studios

Release date
2015-08-25T00:00:00.0000000Z
In-app purchases
$4.99 - $29.99
Installation
Install on your home Xbox One console plus have access when you're connected to your Microsoft account.


Sign in to report this game to Microsoft