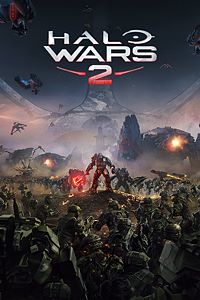 Halo Wars 2: Standard Edition
Published by

Microsoft Studios

Price

On sale information

Product distribution
Description
Supports Xbox Play Anywhere: yours to play on both Xbox One and Windows 10 PC at no additional cost. Real-time strategy makes an explosive return to the Halo universe in Halo Wars 2. Lead Spartans, Warthogs and other classic Halo fighting forces in a brutal war against a terrifying new enemy on the biggest Halo battlefield ever. All-new, Action-packed Story – The heroes of Halo Wars return to find themselves - and the galaxy - in more danger than ever. Following the events of Halo 5, the all-new story is told in action-packed missions set on the legendary Halo destination known as the Ark. Players will strategically command overwhelming firepower in large-scale battles against a terrifying threat facing the UNSC and all of humanity. Build Your Halo Army – Construct your bases, prepare your vehicles and amass your troops. Lead them into huge battles that span across alien environments in a vast collection of campaign and multiplayer maps. Multiplayer Warfare – Play with or against your friends and the Xbox Live community in up to 3v3 matches. Vehicles and troops with explosive firepower, Leaders with special abilities and thrilling multiplayer modes are at your fingertips as you wage war on a variety of maps. Blitz: Instant Command – Blitz is an entirely new way to experience Halo Wars and real-time strategy gameplay. Combining tactical combat with card-based strategy, your deck is your army in Blitz as you build collections of powerful Halo vehicles and troops and command those units in fast-action matches online or solo against waves of enemies. Online multiplayer features require Xbox Live Gold membership (sold separately). PHOTOSENSITIVITY SEIZURE WARNING: A very small percentage of people may experience a seizure when exposed to certain visual images, including flashing lights or patterns that may appear in video games. Visit Xbox.com for more information.
Available on
Capabilities
Online multiplayer - 2 to 6 players
Online co-op
Additional info
Published by
Microsoft Studios

Release date
2017-02-21T00:00:00.0000000Z
In-app purchases
Free - $2.99
Installation
Install on your home Xbox One console plus have access when you're connected to your Microsoft account.


Sign in to report this game to Microsoft