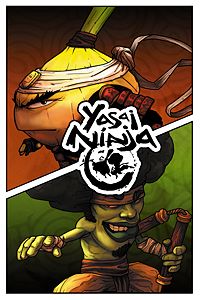 Yasai Ninja
Published by

Recotechnology S.L.

Price

On sale information

Product distribution
Description
Yasai Ninja presents Samurai Onion (Kaoru Tamanegi) and Broccoli Joe, the good guys in this new Hack & Slash adventure, with a high dose of action, a combat system designed for one or two players, puzzles, large quantities of humor, friendship, personal improvement, honor and collaborative spirit belong in this unique atmosphere, which puts our characters in their own universe. Set in Feudal Japan, our vegetable samurais face multiple enemies.
Available on
Capabilities
Local multiplayer- 2 players
Local co-op
Additional info
Published by
Recotechnology S.L.

Release date
2015-08-26T00:00:00.0000000Z
Approximate download size
1.85 GB
Installation
Install on your home Xbox One console plus have access when you're connected to your Microsoft account.


Sign in to report this game to Microsoft