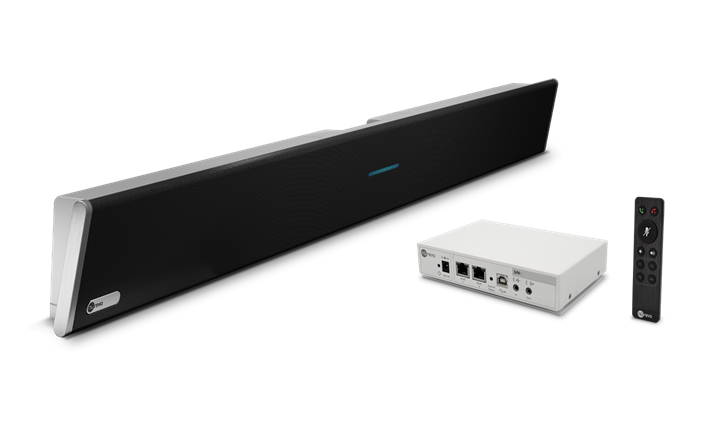 HDL300-B audio conferencing system
Nureva
Select the Overview or Tech Specs tab button to view related content below.
Hear every word, everywhere
Get the in-room audio experience your Teams meetings require, without extra costs or complications. The Nureva HDL300 system uses groundbreaking technology to fill rooms with virtual microphones, so everyone in a large room can be heard, and remote participants can feel more like they're in the room with the team.
Microphone Mist technology
With the HDL300 system, you get full-room coverage without the need for complex, multicomponent setups. The secret? Microphone Mist technology. It fills rooms with virtual microphones so no matter where you sit or stand, there's a microphone to pick up your voice. This patented technology is an ideal match for the meeting rooms of today, and it's only available with Nureva audio.
Easy to install and manage
It's never been simpler to get clear, consistent audio in your Teams spaces. You need just 30 minutes to install the HDL300 on a wall – then all that's left is to connect it to your in-room computer, set it as the default audio device and you're ready to go. There's no need to make adjustments or install new components when you rearrange a room. Continuous autocalibration means the system adjusts automatically.
A natural meeting experience
The HDL300 system delivers a consistent, natural listening experience for remote callers. Audio is always clear, no matter where in-room participants sit or move or which direction they face, so there's no need to change behaviors just to be heard. Even when people in the room talk at the same time, their voices will always be picked up. The result? Everyone stays focused on the meeting, not the technology.