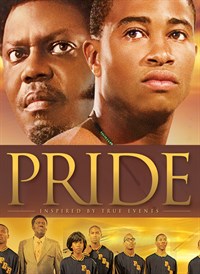 Description
A college-educated African-American schoolteacher frustrated by his inability to find a job repairs an abandoned recreational pool hall in hopes of starting Philadelphia's first African-American swim team in this inspirational drama that takes its cue from the true-life story of charismatic 1970s-era schoolteacher Jim Ellis. The year is 1973 and the job market is tight. Jim Ellis may have a college diploma, but despite his education he still can't seem to find a job. An aspiring teacher with a lifelong love of competitive swimming, Ellis determines to take his future into his own hands when he discovers a deserted recreational pool hall in the slums of the city. Though he and kindly local janitor Elston do their best to get the crumbling pool hall in working order, the pair find their benevolent efforts thwarted when the building is targeted for demolition.
Additional information
Studio
Roadshow Entertainment
Genres
Drama
Family
Sports
Writers
Kevin Michael Smith
Michael Gozzard
J. Mills Goodloe
Norman Vance, Jnr.
Size
6.45 GB (1080p HD)
3.43 GB (720p HD)
2.29 GB (SD)