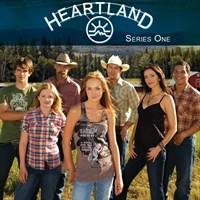 Description
The town of Hudson in the Rocky Mountains is home to Heartland, the Bartlett family ranch. When his daughter Marion is killed in a car accident, Grandpa Jack is left alone to run the ranch with his two grand-daughters, the fiery teenager Amy and her ambitious sister Lou. But, the family is so deeply in debt that they might end up losing Heartland. Tough and practical, Lou reluctantly leaves her job, her boyfriend and the big city life of New York to take over the business end of running the ranch. Her rational approach creates constant friction with the sensitive Amy, who has inherited her Mom's gift as a horse whisperer and is utterly determined to keep her mother's dream alive. The conflict between the two turns bitter when a serious accident brings Amy's ability as a whisperer into question.
Additional information
Networks
Australian Broadcasting Co.
Duration
13 episodes (9 h 22 min)