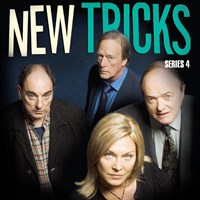 Description
New Tricks follows a team of grumpy retired coppers back on the job investigating unsolved and cold cases. Firmly stuck in the past, their unorthodox policing methods clash with the political correctness of a modern police force. Despite her best efforts to keep them on the straight and narrow, their boss Detective Superintendent Sandra Pullman has to concede that sometimes the rules are there to be broken - and never more so than in this fourth series of the hit drama. They are a strong team but each is driven by internal conflicts. This series, the team reinvestigate cases involving bungled robberies; the glamorous but murky world of the modelling industry; paedophilia; the disappearance of an M.P.; an undercover operation at a nursing home; and a British hanging.
Additional information
Networks
Australian Broadcasting Co.
Duration
8 episodes (7 h 44 min)