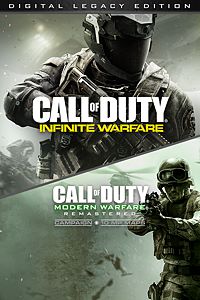 Call of Duty®: Infinite Warfare - Digital Legacy Edition
Published by

Activision

Price

On sale information

Sale information

Product distribution
Description
PRE-ORDER AND RECEIVE ACCESS TO THE BETA*, TERMINAL BONUS MAP AND THE ZOMBIES IN SPACELAND PACK, INCLUDES A WEAPON CAMO, PLAYER CARD, AND A FATE AND FORTUNE CARD PACK. *Beta starts October 21, 2016 on Xbox One. Availability and launch date(s) subject to change. See www.callofduty.com/beta for more details. Minimum Beta duration is 3 days. PRE-ORDER AND GET 1,000 CALL OF DUTY® POINTS IN CALL OF DUTY®: BLACK OPS III. These Call of Duty Points can be unlocked in Black Ops III by searching for "Infinite Warfare" on the Xbox Store and downloading the "Call of Duty®: Infinite Warfare CP Incentive". The Call of Duty®: Infinite Warfare Digital Legacy Edition includes Call of Duty: Infinite Warfare and Call of Duty®: Modern Warfare® Remastered.** **At launch, Modern Warfare Remastered will contain only 10 MP maps from the original Call of Duty: Modern Warfare game. Additional MP maps will be made available by 12-31-2016. Modern Warfare Remastered is a full game download. Internet connection required. For more information, please visit www.callofduty.com/MWR_FAQ. Call of Duty: Infinite Warfare: Call of Duty®: Infinite Warfare delivers three unique game modes: Campaign, Multiplayer, and Zombies. In Campaign, players play as Captain Reyes, a pilot turned Commander, who must lead the remaining coalition forces against a relentless enemy, while trying to overcome the deadly, extreme environments of space. Multiplayer combines a fluid momentum based movement system, player focused map design, deep customization, and a brand new combat system to create an intense gameplay experience where every second counts. Infinite Warfare Zombies brings a new take to Call of Duty Zombies. Zombies in Spaceland will transport players back in time to a 1980's amusement park complete with rides, an arcade, and a functioning rollercoaster. Call of Duty: Modern Warfare Remastered: One of the most critically-acclaimed games in history, Call of Duty 4: Modern Warfare is back, remastered in true high-definition, featuring improved textures, physically based rendering, high-dynamic range lighting and much more for a new generation. Relive the iconic campaign and team up with your friends in the online mode that redefined Call of Duty. © 2007, 2016 Activision Publishing, Inc. ACTIVISION, CALL OF DUTY, CALL OF DUTY: BLACK OPS, MODERN WARFARE, CALL OF DUTY MODERN WARFARE, CALL OF DUTY INFINITE WARFARE, stylized roman numeral III are trademarks of Activision Publishing, Inc.
Available on
Capabilities
Co-op Local
Multiplayer Online- 1 to 18 players
Multiplayer Local- 2 players
Co-op Online
Additional info
Installation
Install on your home Xbox One console plus have access when you're connected to your Microsoft account.


Sign in to report this game to Microsoft