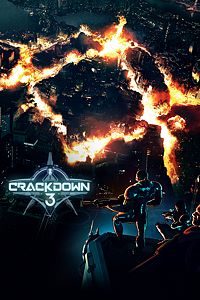 Crackdown 3
Published by

Microsoft Studios

Price

On sale information

Product distribution
Description
Stop crime as a super-powered Agent of justice in Crackdown 3's hyper-powered sandbox of mayhem and destruction. Explore the heights of a futuristic city, race through the streets in a transforming vehicle, and use your powerful abilities to stop a ruthless criminal empire. Developed by original creator Dave Jones, Crackdown 3 will deliver cooperative mayhem and an all-new multiplayer mode where destruction is your ultimate weapon against friends and rivals online powered by Microsoft Cloud. Whether you're playing the Campaign with friends or enjoying an entirely new competitive experience, you'll never look at an open-world game the same way again.*Online multiplayer requires paid Xbox Live Gold subscription (sold separately).Pre-release software. Features are subject to change.
Capabilities
Multiplayer Online- 2 to 99 players
Co-op Online
Additional info
Published by
Microsoft Studios

Installation
Install on your home Xbox One console plus have access when you're connected to your Microsoft account.


Sign in to report this game to Microsoft