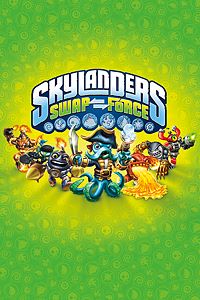 Skylanders SWAP Force
Published by

Activision

Price

On sale information

Product distribution
Description
Skylanders SWAP Force™ is only available on disc, not digital. SWAPPABLE. UNSTOPPABLE. Skylanders SWAP Force features 16 new SWAP Force characters with new powers that let you create more than 250 unique character combinations. Now you have more choice than ever before over how they battle enemies and move throughout Skylands. Only you can mix and match their tops and bottoms, put them on the new Portal of Power and help save Skylands.
Capabilities
Multiplayer Local- 2 players
Co-op Local
Additional info
Release date
2013-11-22T00:00:00.0000000Z
Approximate download size
15.72 GB
Installation
Install on your home Xbox One console plus have access when you're connected to your Microsoft account.


Sign in to report this game to Microsoft