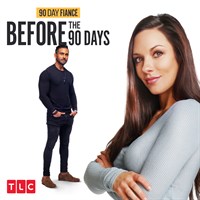 Description
90 Day Fiance: Before the 90 Days features Americans who believe they've found their soul mate online and are traveling to a different country to meet them for the very first time. During the trip, the American will get to know a practical stranger, uncovering truths and secrets that they never expected.
Episodes
8. Stranger in a Strange Land
9. Should've Known Better
12. King of Wishful Thinking
13. The Pleasure Principle
15. The NeverEnding Story
101. The Couples Tell More!
Additional information
Duration
18 episodes (1 day 1 h 26 min)