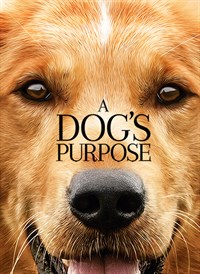 Tomatometer®
Audience
Time Out

2017-05-02 by Ellie Walker-Arnott

Tugs at your heartstrings like a puppy at a postman's trouser leg.

Los Angeles Times

2017-02-02 by Katie Walsh

All the emotional resonance of a dog-themed novelty coffee-table book.

New York Magazine/Vulture

2017-01-30 by Farran Smith Nehme

By the end, I was worn out by all the selfless devotion, all the joyous running across meadows and wheat fields while the camera soars as high as a dog's love for his human.

CNN.com

2017-01-30 by Brian Lowry

A peculiar kibble of vignettes, wrapping reincarnation and life lessons together in a sappy Hallmark Channel-style doggy sweater.

Wall Street Journal

2017-01-29 by Joe Morgenstern

"A Dog's Purpose" left me cherishing my borderline-venerable Skeezix; longing to see Scamp and Fluff and Sukoshi and Sally, the dear departed dogs of my life; and wishing I could have been reincarnated as a better master than I was.

Rolling Stone

2017-01-27 by Peter Travers

A manipulative script about dog reincarnation that whacks your emotions like a piata - that's forgivable. But no mercy for a film charged with canine abuse behind the scenes. It shouldn't happen to a dog.

San Diego Reader

2017-01-27 by Matthew Lickona

Whatever a dog's purpose might be, the movie's purpose is clear: to make you smile and say, "Awww." Woof.

RogerEbert.com

2017-01-27 by Glenn Kenny

The tonal weirdness and the philosophical fallacies and the general level of treacle did not sit very well with me. Then again, I have to admit I'm really more of a cat person.

Globe and Mail

2017-01-27 by Rebecca Tucker

Despite the constant reincarnations, A Dog's Purpose doesn't contain much in the way of spirituality. But any agnostic big-picture messaging it may be reaching for doesn't quite come through, either.

Detroit News

2017-01-26 by Adam Graham

"A Dog's Purpose" finds itself in a peculiar spot, pandering to dog lovers, but still not giving them what they want.

Newsday

2017-01-26 by Rafer Guzman

It's basically "Look Who's Talking" with a puppy instead of a baby.

NPR

2017-01-26 by Scott Tobias

The one distinguishing feature, baked into the film's conceit, is that we get to anticipate the dog dying at the end of every segment, and endure the repeated heartbreak of owners who cannot know its spirit is infinite.

Chicago Reader

2017-01-26 by Leah Pickett

Gad's voice-over often seems incongruous with the dogs' onscreen behavior, and he's rarely as funny or touching as he tries to be.

Toronto Star

2017-01-26 by Ryan Porter

When Hollywood casts a dog as the lead in a movie, it's pretty much always because there is a sappily inspirational tale to be told. And that, as they say, is A Dog's Purpose.

Chicago Sun-Times

2017-01-26 by Richard Roeper

A Dog's Purpose just wears you down.

Washington Post

2017-01-26 by Michael O'Sullivan

"A Dog's Purpose" is hokey but harmless bunkum.

Entertainment Weekly

2017-01-26 by Leah Greenblatt

Purpose ... plays like a family film from another era, its gentle sensibilities a million miles removed from the winky pop culture references and meta layers of most modern all-ages entertainment.

St. Louis Post-Dispatch

2017-01-26 by Gabe Hartwig

"A Dog's Purpose" will make you want to give your furry family members a big hug when you get home. If they're anything like Bailey, they'll be glad to see you.

San Francisco Chronicle

2017-01-26 by Peter Hartlaub

If you have the kind of kid who cries hard when Old Yeller dies, you're sending him into a "The Wild Bunch"-style ambush.

TIME Magazine

2017-01-26 by Stephanie Zacharek

All that reincarnating is hard work, and watching it unfold is a slog too.