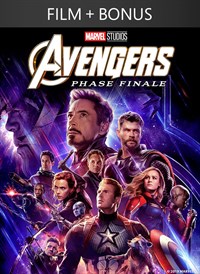 Available on
Xbox One
HoloLens
PC
Mobile device
Xbox 360
Description
Point d'orgue de 22 films Marvel interreliés, le quatrième volet de la saga Avengers marque le tournant décisif d'une aventure épique. Les plus grands héros de l'univers comprendront enfin la fragilité de leur réalité et les sacrifices nécessaires pour la maintenir intacte, dans ce récit où amitié, collaboration et réconciliation serviront à braver un obstacle impossible.
Bonus content
Play Movie With Commentary
Setting the Tone: Casting Robert Downey Jr.
A Man Out Of Time: Creating Captain America
Black Widow: Whatever It Takes
The Russo Brothers: Journey To Endgame
Steve and Peggy: One Last Dance
Additional information
Directors
Anthony Russo
Joe Russo
Genres
Action/Adventure
Sci-Fi/Fantasy
Writers
Christopher Markus
Stephen McFeely
Size
10.97 GB (1080p HD)
7.17 GB (720p HD)
5.9 GB (SD)