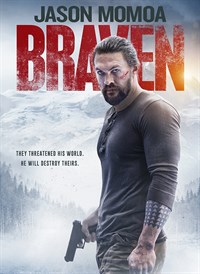 Tomatometer®
Audience
Time Out

2018-03-13 by Lisa Cam

If you've had a hard day and want to watch something to restore your sense of justice in this world, then Braven has all the boxes well and truly ticked.

ReelViews

2018-02-02 by James Berardinelli

Braven is a standard-order action/thriller with adequate performances, occasional bursts of tension, awful dialogue, and a minimal narrative.

RogerEbert.com

2018-02-02 by Nick Allen

An automatic type of action movie, often only challenging its predictability by getting goofier and goofier.

Variety

2018-02-02 by Joe Leydon

To put it simply and gratefully: "Braven" is the sort of unpretentious yet thoroughly professional popcorn entertainment that brings out the best in everybody involved.

New York Post

2018-02-01 by Sara Stewart

For anyone looking for a shot of vengeance adrenaline while waiting for "John Wick 3" to come down the pike, "Braven" will probably fit the bill.

Los Angeles Times

2018-02-01 by Gary Goldstein

Director Lin Oeding's stunt background serves him well; the stripped-down action, fights and stunt work here feel like the real deal instead of effects-heavy marvels of editing.

Hollywood Reporter

2018-02-01 by Frank Scheck

Despite his fearsome physicality, Momoa again manages to come off as a relatable everyman, and Lang, as usual, superbly handles his role's considerable emotional and physical demands.

Village Voice

2018-02-01 by Alan Scherstuhl

Any cheapjack action movie can get a crowd to cheer at its shock kills. It's the best ones that persuade us that there's a clear chain-of-events physical logic at play - that find suspense in one action leading inevitably to another.

Common Sense Media

2018-08-15 by Brian Costello

Extremely violent action movie has language, drugs.

AXS.com

2018-08-14 by Tom Santilli

Momoa is quite comfortable and capable as an action star...his Braven is a hero worth rooting for.

Cinemalogue

2018-08-03 by Todd Jorgenson

The stylish action sequences are overwhelmed by a woefully contrived screenplay that turns more ridiculous by the minute.

Screen-Space

2018-05-21 by Simon Foster

[Stays] entirely within its genre parameters but does so wholeheartedly, delivering a lean, mean dose of tension, violence and sentimentality.

Birth.Movies.Death.

2018-04-10 by Jacob Knight

Braven is proof that Momoa can carry an action movie all his own, and deserves more vehicles were he can lay down the law in the name of saving his disarmingly average clan.

The New Paper (Singapore)

2018-02-21 by Samfrey Tan

Braven is a visceral film that is heartening despite its chilling brutality, as it showcases the sacrifices one would make to protect the ones who truly matter - family.

Film Inquiry

2018-02-20 by David Fontana

To conclude, Braven is a fine piece of genre fare. The story itself may sound all-too-familiar, yet its wintry setting, inventive action sequences, and a strong presence by Jason Momoa and supporting cast help it to rise above many like-minded films.

Film Threat

2018-02-08 by Alan Ng

Braven is a decent thriller. Good actions, beautiful location and as the main psychopath Garret Dillahunt is at his Dillahuntiest.

Film School Rejects

2018-02-03 by Rob Hunter

A solid action picture that never tries to overstep its bounds or abilities, and in a world overflowing with big movies heavy on CG and light on charm it's more than enough.

MovieFreak.com

2018-02-02 by Sara Michelle Fetters

... there's plenty about this tiny action effort to stand up and cheer.

Slashfilm

2018-02-02 by Chris Evangelista

Braven is not high-art, but gosh almighty is it highly entertaining.

Den of Geek

2018-02-02 by Mike Cecchini

Braven never truly goes for it. Its devotion to its slow build makes you think that the violent payoff you're waiting for is going to be more over the top than it actually is.
No one's rated or reviewed this product yet.