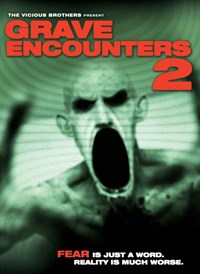 A year after a film crew spent a fatal night at Collingwood Psychiatric Hospital, a new team is entering the halls in search of the truth. That is, if anyone is left alive to tell the tale.
Once you select Rent you'll have 14 days to start watching the film and 48 hours to finish it.
Description
GRAVE ENCOUNTERS was a found-footage horror phenomenon that many people believed was just a movie.  Film student Alex Wright (Richard Harmon from TV's THE KILLING) is out to prove them wrong.  Alex is obsessed with the movie, as are the 20 million people who viewed its viral trailer on the internet.  When he and his friends visit the real psychiatric hospital depicted in the original film, they find themselves face-to-face with unspeakable evil, and hope that their knowledge of the first movie will help them survive GRAVE ENCOUNTERS 2.
Additional information
Age rating
Genres
Horror
Thriller/Mystery
Size
5.82 GB (1080p HD)
2.75 GB (720p HD)
2.07 GB (SD)
Size
5.82 GB (1080p HD)
2.75 GB (720p HD)
2.07 GB (SD)
| | |
| --- | --- |
| Windows | Windows 8, Windows 8.1, Windows 10 or later |
| Xbox | Xbox 360, Xbox One, Xbox One S, Xbox One X |
| Mobile | Windows Phone 8, Windows Phone 8.1, Windows 10 or later |
Portions of content provided by Tivo Corporation - © 2022 Tivo Corporation