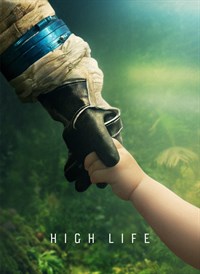 Monte and his baby daughter are the last survivors of a damned and dangerous mission to the outer reaches of the solar system. They must now rely on each other to survive as they hurtle toward the oblivion of a black hole.
Once you select Rent you'll have 14 days to start watching the film and 48 hours to finish it.
Available on
Xbox One
HoloLens
PC
Mobile device
Xbox 360
Description
Monte (Robert Pattinson) and his baby daughter are the last survivors of a damned and dangerous mission to the outer reaches of the solar system.The crew death-row inmates led by a doctor (Juliette Binoche) with sinister motives has vanished. As the mystery of what happened onboard the ship is unraveled, father and daughter must rely on each other to survive as they hurtle toward the oblivion of a black hole. A staggering and primal film about love and intimacy, suffused with anguished memories of a lost Earth, High Life is a haunting, thrilling achievement from visionary director Claire Denis.
Additional information
Studio
Elevation Pictures
Age rating
Genres
Horror
Sci-Fi/Fantasy
Size
6.33 GB (1080p HD)
3.97 GB (720p HD)
3.18 GB (SD)
Size
6.33 GB (1080p HD)
3.97 GB (720p HD)
3.18 GB (SD)
| | |
| --- | --- |
| Windows | Windows 8, Windows 8.1, Windows 10 or later |
| Xbox | Xbox 360, Xbox One, Xbox One S, Xbox One X |
| Mobile | Windows Phone 8, Windows Phone 8.1, Windows 10 or later |

Tomatometer®
Audience
Observer

2018-09-28 by Rex Reed

---

Baffling, non-linear to the point of near-schizophrenia, and despite all of the computer technology, sadly resistant to any kind of production design you could call innovative.

Variety

2018-09-22 by Jessica Kiang

---

The scope of its ambition is cleverly reined in by the low-key presentation, its more salacious potential muted down to an insistent threatening hum, like the background radiation of Stuart Staples' score.

Globe and Mail

2018-09-12 by Barry Hertz

---

The ending of High Life arrives almost too suddenly, but that's only incentive to seek out a second, third and fourth viewing as soon as humanly possible.

AV Club

2018-09-11 by A.A. Dowd

---

In terms of mood, cosmetics, and rhythm, it's a worthy addition to the great filmmaker's canon.

Los Angeles Times

2018-09-11 by Justin Chang

---

"High Life" can be brutal and breathtakingly perverse as only a Denis film can be. But perhaps even more disturbingly, that brutality is undergirded by real warmth and tenderness...

indieWire

2018-09-10 by David Ehrlich

---

High Life is a pensive and profound study of human life on the brink of the apocalypse.

Hollywood Reporter

2018-09-10 by Jordan Mintzer

---

The director's ardent fans will likely find much to admire here - especially the fact that the 72-year-old Denis remains a fearless filmmaker who, in her own way, has gone this time where no man (or woman) has gone before.

Far Out Magazine

2018-11-06 by Monica Reid

---

Something strange, intense, frightening, moving, and entirely new. Sci-fi may never be the same.

Film Comment Magazine

2018-10-30 by Jonathan Romney

---

For now, I'll settle for saying that the shock and richness of High Life are wonderfully enchanting and perplexing.

The New York Review of Books

2018-10-25 by Christine Smallwood

---

Denis's eye is as interesting as ever, but the story is not.

BBC.com

2018-10-19 by Caryn James

---

The isolated setting allows her to focus on the essence of human behaviour, on the themes of love, guilt and desire that have propelled her long and stunning career, and that her newest lead actor make so captivating.

Awards Circuit

2018-10-12 by Joey Magidson

---

Often confounding, nearly impenetrable, and almost impossible to describe. It's something you need to see in order to get. At the same time though, is it worth seeing? That's truly something up for debate.

Film Threat

2018-10-03 by Andy Howell

---

The truth is that there is no message. This is just throwing in the kitchen sink of outrageous things, half-themes, and cinematic styles and hoping that the viewer will make something up to draw it together.

Film Inquiry

2018-09-27 by Benjamin Wang

---

A dense film, and a transgressive one. Regardless of how one evaluates it, it demands consideration of various concepts and the complex array of experiences that unfold from their interactions.

Caimán Cuadernos de Cine

2018-09-27 by Carlos F. Heredero

---

With the unmistakable shadow of Solaris... High Life is a brave and risky foray into the territory of dystopian science fiction. [Full review in Spanish]

Bangkok Post

2018-09-21 by Kong Rithdee

---

Sex, birth, violence, philosophy -- this is a visceral, feverish alter-ego of Kubrick's 2001: A Space Odyssey, made with relish by a true French master.

Birth.Movies.Death.

2018-09-21 by Andrew Todd

---

High Life will certainly certainly perplex traditional R-Pattz fans -- but for those of us captivated by his second coming, it's a wild and visionary ride

Film Inquiry

2018-09-19 by Tomas Trussow

---

Even when Denis preps us to have a chuckle, she is quick to remind us that we're not going to get a campy cult classic out of her. Her concerns here are not to be taken lightly, and laughter must inevitably give way to serious contemplation.

MUBI

2018-09-19 by Kelley Dong

---

The multiplicity of High Life is the fruit of her thoughtfulness, even though it progresses so swiftly, as if weightless.

National Newspaper Publishers Association

2018-09-18 by Dwight Brown

---

Cheap looking sets and costumes stop this odd, erotic space odyssey from reaching its final destination.
No one's rated or reviewed this product yet.
Portions of content provided by Tivo Corporation - © 2019 Tivo Corporation