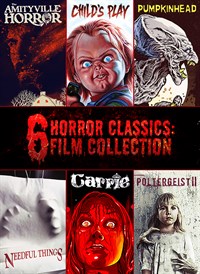 Original price was CAD $89.94, current price is CAD $59.99
Original price was CAD $89.94, current price is CAD $59.99

Tomatometer®
Audience
Starburst

2018-10-08 by Robert Martin

Brolin and Kidder carry the film, their conviction encouraging you to believe even if you don't.

Common Sense Media

2017-10-31 by Brian Costello

'70s horror movie hasn't aged well; violence and peril.

Alternate Ending

2017-08-30 by Tim Brayton

It has scattered moments all throughout that acquit themselves well as, if not top-shelf horror, then at least second-from-the-top.

Little White Lies

2017-06-26 by Anton Bitel

Its pacing is off, there are too many go-nowhere subplots, & it seems just to come to a clunking halt at the end [but] the film's lack of commitment to any single reading of its narrative architecture is precisely what makes it so uncanny.

Creative Loafing

2013-10-16 by Matt Brunson

A pack of flies swarm all over Father Delaney -- then again, given Rod Steiger's howling performance as the priest, it could just be that the flies like reeking ham.

Slant Magazine

2013-09-28 by Chuck Bowen

Shout! Factory wasn't quite able to rouse itself up to its typical standard with The Amityville Horror Trilogy, which is understandable considering the general dullness of the films themselves. Horror fans are advised to look elsewhere.

EmanuelLevy.Com

2011-05-04 by Emanuel Levy

It was popular at the box-office, but was unremarkable as a horror film

CinePassion

2009-08-28 by Fernando F. Croce

An astonishing number of fumbled frissons

Movies for the Masses

2006-10-03 by Joseph Proimakis

full review in Greek

Video-Reviewmaster.com

2005-12-19 by Steve Crum

It once seemed creepy, but time has made it seem pretty contrived.

Fantastica Daily

2005-08-31 by Chuck O'Leary

A middling horror entry from 1979 that's a masterpiece when compared to the dreadful 2005 remake.

sbs.is

2005-07-08 by Stefan Birgir Stefansson

Yeah, it's not good.

Slant Magazine

2005-04-04 by Nick Schager

Moronic.
No one's rated or reviewed this product yet.