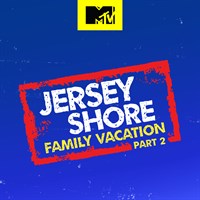 Description
The gang kicks it off by heading to Las Vegas. After partying through Sin City, they head back to the East Coast, celebrating milestones in Atlantic City – and settle in for an extended summer stay at the Shore.
Episodes
3. The Truth About Ronnie
7. Four Guidos and a Baby
9. Vinny and Angelina: A love story
13. Staten Island Smackdown
15. Pork Roll or Taylor Ham?
16. Wallopin' in Manalapan
17. Ronnie Magro's Series of Unfortunate Events
18. The United States vs. The Situation Pt. 1
19. The United States vs. The Situation Pt. 2
27. The Hitch-uation Pt. 2
101. Ron Ron Juice Recipe
102. ABC's of Jersey Shore
Extra: Most Jersiest Moments
Additional information
Duration
29 episodes (18 h 40 min)