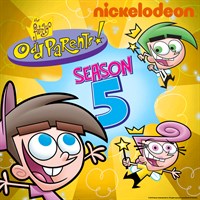 Description
Your wish for laughs is granted as Timmy Turner helps Adam West relive his childhood, Jorgen tries to get one of Timmy's teeth to use as an engagement ring, and Timmy discovers he's a TV star on a hidden camera show in Fairy World, and more!
Episodes
2. Birthday Wish/Go Young West Man
3. Blondas Have More Fun/Five Days of Flarg
4. Timmy's 2D House of Horror/It's a Wishful Life
5. Escape from Unwish Island/The Gland Plan
6. Back to Norm/Teeth for Two
7. Remy Rides Again/Hassle in the Castle
8. Talkin' Trash/Timmy TV
9. The Masked Magician/The Big Bash
12. Oh, Brother/What's the Difference?
13. Smart Attack/Operation Fun
14. Something's Fishy/Presto Change-O
15. The Good Ol' Days/Future Lost
16. Timmy the Barbarian/No Subsittute for Crazy
17. Jimmy / Timmy 3: The Jerkinators!
18. Jimmy / Timmy Power Hour 2: When Nerds Collide
Additional information
Age rating
Genres
Action/Adventure
Animation
Comedy
Family/Children
Duration
18 episodes (7 h 58 min)