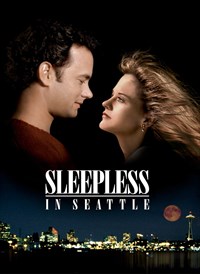 Tom Hanks and Meg Ryan star in an enchanting romance about a widower whose son convinces him to find new love and the woman who answers his call.
Once you select Rent you'll have 14 days to start watching the film and 48 hours to finish it.
Available on
Xbox One
HoloLens
PC
Mobile device
Xbox 360
Description
Tom Hanks and Meg Ryan star in Nora Ephron's wonderfully romantic comedy about two people drawn together by destiny. Hanks stars as Sam Baldwin, a widowed father who, thanks to the wiles of his worried son, becomes a reluctant guest on a radio call-in show. He's an instant hit with thousands of female listeners who deluge his Seattle home with letters of comfort. Meanwhile, inspired in equal parts by Sam's story and by classic Hollywood romance, writer Annie Reed (Ryan) becomes convinced that it's her destiny to meet Sam. There are just two problems: Annie's engaged to someone else and Sam doesn't know yet that they're made for each other. Co-starring Rosie O'Donnell, Rita Wilson and Rob Reiner.
Additional information
Age rating
Genres
Comedy
Romance
Romantic Comedy
Genres
Comedy
Romance
Romantic Comedy
Writers
Jeff Arch
Nora Ephron
David S. Ward
Writers
Jeff Arch
Nora Ephron
David S. Ward
Size
6.25 GB (1080p HD)
2.96 GB (720p HD)
2.22 GB (SD)
Size
6.25 GB (1080p HD)
2.96 GB (720p HD)
2.22 GB (SD)
| | |
| --- | --- |
| Windows | Windows 8, Windows 8.1, Windows 10 or later |
| Xbox | Xbox 360, Xbox One, Xbox One S, Xbox One X |
| Mobile | Windows Phone 8, Windows Phone 8.1, Windows 10 or later |

Tomatometer®
Audience
75 %
297,096 user reviews
Newsweek

2018-03-20 by David Ansen

---

Self-consciousness infects Nora Ephron's sweet but perilously thin love story, Sleepless in Seattle...such are the perils of these postmodernist times: even our love stories feed off borrowed emotion.

TIME Magazine

2009-02-02 by Richard Schickel

---

Mostly, Sleepless in Seattle leaves you feeling restless in the audience.

Chicago Reader

2009-02-02 by Jonathan Rosenbaum

---

If one can ignore all the straining for lightness here, this is watchable enough, though hardly anything resembling a tearjerker.

Variety

2008-07-22 by Brian Lowry

---

Ephron and fellow writers Jeff Arch and David S. Ward have conspired to make Sleepless in Seattle as purposefully schmaltzy as one can imagine, in a manner that's almost cynical.

Rolling Stone

2006-08-26 by Peter Travers

---

It's easily the hippest, frankest and funniest date movie around.

Time Out

2006-02-09

---

The schmaltzy soundtrack is overdone, but cameraman Sven Nykvist wraps it all up in an appropriately warm glow.

New York Times

2003-05-20 by Vincent Canby

---

Nora Ephron's Sleepless in Seattle is a feather-light romantic comedy about two lovers who meet for the first time in the last reel. It's a stunt, but it's a stunt that works far more effectively than anybody in his right mind has reason to expect.

Washington Post

2000-01-01 by Hal Hinson

---

We fall -- and I think a lot of people will fall hard for this movie -- even though we know we shouldn't.

ReelViews

2000-01-01 by James Berardinelli

---

This is a dreamy, romantic fantasy whose mood falls somewhere between magic and reality.

Washington Post

2000-01-01 by Joe Brown

---

A quick check of the exiting audience found many smiling -- and still clutching tissues.

Chicago Sun-Times

2000-01-01 by Roger Ebert

---

Sleepless in Seattle is as ephemeral as a talk show, as contrived as the late show, and yet so warm and gentle I smiled the whole way through.

Alternate Ending

2018-09-16 by Tim Brayton

---

Substantially better, funnier, smarter, and more impeccably-controlled than almost everything that came in its wake.

The Young Folks

2018-06-27 by Grant Jonsson

---

While I have returned to watch my favourite moments play out again and again, I am always rewarded by the subtlety and beauty in the scenes I don't remember.

Reel Film Reviews

2018-03-28 by David Nusair

---

...a decent drama that never entirely lives up to its place as a classic romcom...

Guardian

2014-02-13 by Peter Bradshaw

---

A movie to which director and co-writer Nora Ephron brought her terrific flair, wit and nous, although she propagates the terrifying fallacy that a widower makes a wonderful romantic catch.

Slant Magazine

2013-07-12 by Tina Hassannia

---

Nora Ephron's fictional universe is no less magical than the romance films it references, yet she imbues the film with a self-awareness that remains rewarding in spite of its contradictions.

Common Sense Media

2011-01-01 by Common Sense Media Editors

---

A fairy tale that even teens can enjoy.
No one's rated or reviewed this product yet.
Portions of content provided by Tivo Corporation - © 2019 Tivo Corporation