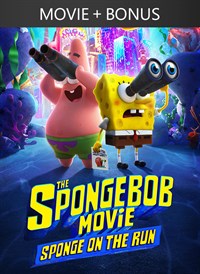 Description
SpongeBob SquarePants, his best friend Patrick, and the Bikini Bottom gang star in their most epic adventure movie yet! When SpongeBob's beloved pet snail Gary goes missing, a path of clues leads SpongeBob and Patrick to the powerful King Poseidon, who has Gary held captive in the Lost City of Atlantic City. On their mission to save Gary, SpongeBob and his pals team up for a heroic and hilarious journey where they discover nothing is stronger than the power of friendship. Stay after the credits for an all-new mini-movie!
Bonus content
I'm Urchin You To Leave Mini-Movie
Agua Music Video By Tainy & J. Balvin
How We Do Lyric Video By Snoop Dogg And Monsta X
Krabby Step Lyric Video By Tyga, Swae Lee & Lil Mosey
Agua Lyric Video By Tainy & J. Balvin
Deleted Storyboard: Wake Up
Deleted Storyboard: Sumo Ninja
The Ballad Of SpongeBob And Patrick!
I ❤️ Camp Coral By SpongeBob SquarePants
Drawing The Cutest Camper Ever
Drawing The Cutest Snail Ever
The Amazing Stages Of Animation
The Wonders Of The Patty Mobile
Additional information
Genres
Action/Adventure
Animation
Comedy
Family
Size
5.12 GB (1080p HD)
3.21 GB (720p HD)
2.57 GB (SD)