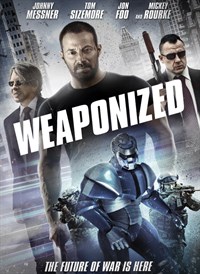 Available on
Xbox One
HoloLens
PC
Mobile device
Xbox 360
Description
Detective Mitch Walker (Johnny Messner) doubts veteran Jack Simon's (Timothy Woodward Jr.) guilt in a recent machine gun attack on innocent civilians. When Walker receives a phone call in the middle of the night from Clarence Peterson, (Mickey Rourke) luring him to a park the next day if "he wants the truth," Walker sees no choice but to investigate. When he receives a vial of blue liquid and a flash drive from Peterson, Walker doesn't realize he's gotten himself involved in the top-secret, highly dangerous, military program SWAP, run by a private contractor, Kyle Norris, (Tom Sizemore) who lost his son in the Pentagon attack a year prior. In opposition to demands from his captain, Doug Ryan (Michael Pare) and partner Phil Ross, (Cullen Chambers) Walker can't help but to investigate the already closed case of Jack Simon. He takes the flash drive to an experienced hacker, Victor (Jon Foo). Next thing Walker knows someone intentionally crashes into his car endangering not only his life but also his daughter's Katie (Kelea Skelton). Walker is put on suspension after taking Peterson into custody for questioning. With no badge and someone wanting to danger his daughter and wife, (Taylor Cole) Walker wants nothing more to do with whatever it is he was looking for. However, when Walker wakes up face to face with Norris, in a military complex, handcuffed, connected to tubes and the clock ticking until he is entered into the SWAP system, he doesn't have a choice. Walker must fight the clock with the help of the program's creator, Chris Downey (Chris Damon), before Norris has complete control over his brain, body and consciousness.
Additional information
Directors
Timothy Woodward Jr.
Size
5.38 GB (1080p HD)
2.54 GB (720p HD)
1.91 GB (SD)