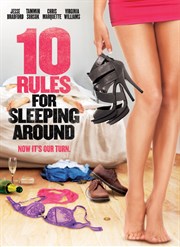 10 Rules for Sleeping Around
Description
By following 10 simple rules, hot 20-somethings Vince and Cameron spice up their relationship by sleeping around. But when their strait-laced friends get engaged, their relationship gets turned upside down! To put the rules to the test, they will go on the road to the Hamptons to crash the biggest party of the year where love triangles collide and off-the-wall mayhem ensues!
Los Angeles Times
2014-04-03 by Gary Goldstein
A dreadful sex farce with barely an authentic emotion, credible character or plausible plot point in its midst.
Full review
Village Voice
2014-04-01 by Heather Baysa
The whole film is pretty enraging, hideously acted apart from the main quartet, and ends up viewing like a particularly racy Lifetime Original.
Full review
Hollywood Reporter
2014-04-04 by John DeFore
Additional info
Size
5.48 GB (1080p HD)
2.52 GB (720p HD)
1.87 GB (SD)

Supported devices
Xbox
Windows 8 or later