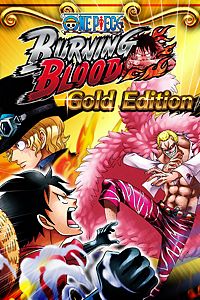 ONE PIECE BURNING BLOOD - Gold Edition
Published by

BANDAI NAMCO Entertainment

Price

On sale information

Product distribution
Description
This amazing ONE PIECE BURNING BLOOD - Gold Edition includes the game along with all the content from the Wanted Pack 1, Wanted Pack 2 and Luffy Pack! • 4 new playable characters • 9 alternate versions of playable characters • 14 costumes • 6 customized HUDs • + 2 bonus costumes: Platinum & Golden Luffy One Piece Burning Blood is a dynamic and colorful new fighting game featuring the world's most famous pirate: Monkey D. Luffy. GEAR UP FOR THE FIGHT!
Available on
Capabilities
Multiplayer Online- 2 players
Multiplayer Local- 2 players
Additional info
Published by
BANDAI NAMCO Entertainment

Release date
2016-08-04T00:00:00.0000000Z
In-app purchases
$0.99 – $29.99
Installation
Install on your home Xbox One console plus have access when you're connected to your Microsoft account.


Sign in to report this game to Microsoft