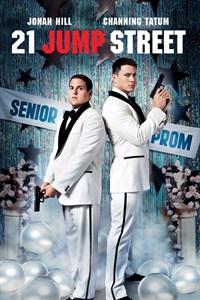 Tomatometer®
Audience
82 %
257,223 user reviews
New Yorker

26/03/2012 by Richard Brody

The late-eighties TV series is rebooted with jolts of sentiment, personal discovery, and wild comedy.

Film.com

16/03/2012 by William Goss

The whole crew makes clear its affections for action cinema, trashy television and the YouTube generation alike while having fun at the expense of all three.

Newark Star-Ledger

16/03/2012 by Stephen Whitty

A raucous, raunchy comedy.

Rolling Stone

16/03/2012 by Peter Travers

This bracing new take on 21 Jump Street has a playful spark all its own. It's a blast.

Globe and Mail

16/03/2012 by Liam Lacey

A try-anything, fitfully amusing muddle that wears its mocking cynicism a bit too proudly.

Detroit News

16/03/2012 by Tom Long

"21" makes clear from the beginning it is gobbling up some pop culture refuse in the name of nothing more than making fun of it and having fun with it.

New York Post

16/03/2012 by Kyle Smith

This is the funniest movie I've seen in more than a year.

Washington Post

16/03/2012 by Ann Hornaday

"21 Jump Street" might be yet another product of Hollywood's recycling program, but it deserves to be noticed.

Richard Roeper.com

15/03/2012 by Richard Roeper

I didn't think we needed a '21 Jump Street,' but it's actually kind of funny.

Los Angeles Times

15/03/2012 by Betsy Sharkey

Miller and Lord clearly understand the push-and-pull and hyper-competitiveness that make guy friendships both complex and stupid.

USA Today

15/03/2012 by Claudia Puig

It's that rare comedy that's funny throughout, with a hilarious story that hinges on the unlikely pairing of Jonah Hill and Channing Tatum.

Christian Science Monitor

15/03/2012 by Peter Rainer

The basic premise -- that these two are supposed to be high school age and siblings -- is funny, but the joke, as is true of many others in this movie, is replayed way too often.

Slate

15/03/2012 by Dana Stevens

21 Jump Street makes a virtue of low expectations, like an underachieving high school burnout coasting on his modest reserves of charm.

Wall Street Journal

15/03/2012 by Joe Morgenstern

This cheerfully chaotic, gleefully vulgar action-comedy retread of the old television series has box-office success written all over it, and where's the harm? It's irresistibly funny until it isn't.

NPR

15/03/2012 by Andrew Lapin

It was inevitable that one of Hollywood's many recent reboots would eventually attain sentience. Hence the arrival of 21 Jump Street, a film that not only knows it's a remake, but knows how absurd it has to be to succeed as a remake.

Minneapolis Star Tribune

15/03/2012 by Colin Covert

"21 Jump Street" thrilled me to itsy-bitsy elated pieces.

Boston Globe

15/03/2012 by Wesley Morris

Neither man has had a better foil. They are literally and figuratively trying to bring something out of each other, and they do.

San Francisco Chronicle

15/03/2012 by Peter Hartlaub

This film is even better if you come in with no spoilers and low expectations, so we will build it up no more.

Philadelphia Inquirer

15/03/2012 by Carrie Rickey

This potty-mouthed and drug-laced reimagining of the 1980s TV show has one of the highest laughs-per-minute ratios since the Naked Gun films.

Toronto Star

15/03/2012 by Peter Howell

Tatum and Hill steamroller any misgivings right from the start. They take a comedy connection that seemed doomed to fail - pairing Tatum's hunky command with Hill's nerdy neediness - and make it look like the most natural thing in the world.
No one's rated or reviewed this product yet.