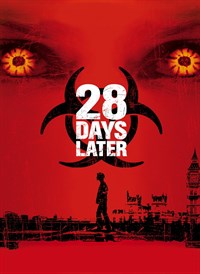 Tomatometer®
Audience
85 %
481,939 user reviews
TIME Magazine

06/10/2013 by Richard Corliss

The movie's craft makes the dread of a killer virus contagious: viewers may feel they have come down with a case of secondhand SARS or sympathetic monkeypox.

Wall Street Journal

06/10/2013 by Joe Morgenstern

Heedlessly derivative though it may be, 28 Days Later does what it sets out to do and then some -- scare us out of our wits, then get us to apply those wits to an uncommonly intelligent and provocative zombie flick.

AV Club

06/10/2013 by Nathan Rabin

Later does a lot of things right, which makes its third-act missteps even more frustrating.

New Yorker

06/10/2013 by Anthony Lane

The picture is twitchy and annoying, flecked with blood and half-digested ideas, and too much is left unexplained.

Chicago Reader

06/10/2013 by Jonathan Rosenbaum

Danny Boyle's purposeful direction and Mark Tildesley's imaginative and resourceful production design keep this fresh and edgy; the images of a wasted London and the details of a paramilitary organization in the countryside are both creepy and persuasive.

Associated Press

06/10/2013 by Christy Lemire

What also makes 28 Days Later effective, and sets it apart from other thrillers, is that it makes you care about the characters.

Time Out

24/06/2006 by Tom Charity

Danny Boyle has got his edge back.

New York Magazine/Vulture

07/08/2004 by Peter Rainer

It makes for a more intimate brand of horror, one we can't explain away by pretending we're watching the same old well-oiled Hollywood malarkey.

Observer

01/07/2003 by Rex Reed

In the old days, a feverish programmer like 28 Days Later would end up on the bottom half of a double bill.

Ebert & Roeper

30/06/2003 by Richard Roeper

... really creepy and really scary ...

Salon.com

28/06/2003 by Andrew O'Hehir

I enjoyed watching this film, mostly because Murphy and Harris make such an appealing central couple to build a new world around. But nobody should mistake this for a killer-zombie movie with real soul.

Washington Post

27/06/2003 by Ann Hornaday

Detestable, not just because its action is so vile or its technique so crude, but because its moral imagination is so impoverished.

Toronto Star

27/06/2003 by Peter Howell

Director Boyle and screenwriter Alex Garland have rebounded smartly from the bloated Leonardo DiCaprio debacle that was The Beach, their previous collaboration.

Seattle Times

27/06/2003 by Moira MacDonald

It's unpleasant stuff, told without winks or humor, and it's so perfectly pitched that you can't take your eyes off it, even if this sort of hard-edged horror isn't exactly your cup of Diet Coke.

San Francisco Chronicle

27/06/2003 by Mick LaSalle

It has eerie images, a compelling situation and an unusual capacity to surprise.

Orlando Sentinel

27/06/2003 by Roger Moore

Derivative but horrifically effective.

Miami Herald

27/06/2003 by Rene Rodriguez

This smart, genuinely creepy movie also feels real, which is why its horrors hit so hard.

Globe and Mail

27/06/2003 by Rick Groen

[Boyle's] back on British turf here and in fine dark form.

Detroit News

27/06/2003 by Tom Long

The rare horror film that splatters and pauses to consider the splatter, that follows a traditional storyline and then improves upon it, and that avoids cliches while playing one out.