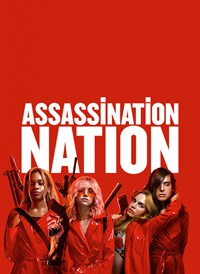 Tomatometer®
Audience
Chicago Reader

04/10/2018 by Cody Corrall

Assassination Nation is a lesson in taking back agency in a world that constantly tries to strip young women of it. But it also forces the audience to wake up and hold up a mirror to the hypocrisy in our own values.

New York Magazine/Vulture

27/09/2018 by Bilge Ebiri

Watching Assassination Nation's arch portrait of today's currents and countercurrents, one senses just how utterly irreconcilable our many differences are.

Rolling Stone

22/09/2018 by David Fear

It's an angry movie for angry times, which doesn't necessarily make it a clever or coherent commentary on how American hypocrisy leads to American carnage.

Detroit News

21/09/2018 by Tom Long

From privacy and fame to sex, hacking scandals and Instagram, "Assassination Nation" takes on a laundry list of hot topics and rolls its eyes at all of them.

TheWrap

21/09/2018 by Alonso Duralde

Audiences may nonetheless forgive the film's shortcomings because of its sheer verve and chutzpah.

RogerEbert.com

21/09/2018 by Tomris Laffly

Levinson's film vaguely shelters a compelling story about today's unforgiving online mob mentality beneath its convoluted layers.

Los Angeles Times

20/09/2018 by Katie Walsh

Dude really tried to mansplain the virgin/whore paradigm in the midst of this exploitative claptrap.

Toronto Star

20/09/2018 by Bruce DeMara

Think of Assassination Nation as a modern fable - a wild, blood-soaked fable.

New York Times

20/09/2018 by Aisha Harris

Even if Lily and her friends feel more like social justice avatars than fully realized characters, by the end of the film, it's hard not to root for them.

San Francisco Chronicle

20/09/2018 by David Lewis

"Assassination Nation" won't get any points for narrative cohesion or character development, but it's a timely, visually arresting statement about how pandemonium in this country threatens to become the new norm.

AV Club

18/09/2018 by Mike D'Angelo

Unlike the best examples of either horror or satire, it ultimately comforts and confirms rather than challenges.

Globe and Mail

06/09/2018 by Barry Hertz

How much of a kick you might get out of Assassination Nation depends on whether you think the words "trigger warning" count as a punchline or not.

Hollywood Reporter

09/02/2018 by Leslie Felperin

With so much stuff going off, the core cast don't really have much opportunity to stretch themselves, but nevertheless, Young and Nef stand out particularly with their more dimensional characters.

RogerEbert.com

26/01/2018 by Brian Tallerico

It doesn't all work-a film that takes such a buckshot approach to satire never can be-but there's enough filmmaking verve on display here to make me like it.

indieWire

25/01/2018 by Eric Kohn

It's a messy conclusion, but one of the most timely in current cinema.

Variety

23/01/2018 by Amy Nicholson

By the time Lily delivers a lecture about hypocrisy in front of the American flag, the electric youth of the fantastic first half feels like an immature screed.

Kermode & Mayo's Film Review

27/11/2018 by Mark Kermode

Gleeful... I turned to myself and went, "wow."

Under the Radar

27/11/2018 by Shawn Hazelett

Such literal storytelling doesn't logically or tonally mesh with later scenes of mass hysteria, violence, and absurdity.

Times (UK)

27/11/2018 by Ed Potton

Here it is, the definitive movie for the Donald Trump era. Like Trump, it's crass, disturbing and devoid of subtext. Unlike him, it has style, self-awareness and a sense of humour.

Sunday Times (UK)

27/11/2018 by Edward Porter

Even for a film that's scattershot by design, it's excessively disorganised, but it is fierce and inventive enough to justify its existence.
No one's rated or reviewed this product yet.