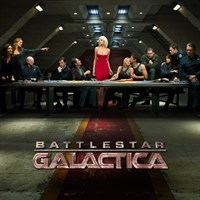 Description
After blasting away the competition to become the most-watched cable miniseries of 2003, "Battlestar Galactica" returns as a one-hour weekly drama. The show reunites the entire cast and creative team behind the miniseries, including stars Edward James Olmos, Mary McDonnell, Jamie Bamber, Tricia Helfer, Katee Sackhoff, James Callis, and Grace Park. The new "Galactica" series picks up where the hit mini-series left off. After engaging in a losing battle against the Cylons, humanity's last remnants fled in search of a new home, a mythical planet called Earth. With waning supplies, weapons and hope, Commander Adama and President Laura Roslin (McDonnell) realize that their problems are far greater than the immediate threat of Cylons. On their shoulders rests the very survival of humankind.
Episodes
1. He That Believeth in Me
5. The Road Less Traveled
7. Guess What's Coming to Dinner?
11. Sometimes A Great Notion
12. A Disquiet Follows My Soul
17. Someone to Watch Over Me
18. Islanded in a Stream of Stars
Additional information
Duration
21 episodes (15 h 34 min)