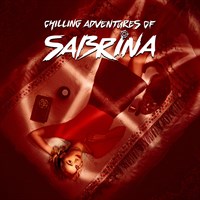 Description
CHILLING ADVENTURES OF SABRINA imagines the origin and adventures of Sabrina the Teenage Witch as a dark coming-of-age story that traffics in horror, the occult and, of course, witchcraft. Tonally in the vein of Rosemary's Baby and The Exorcist, this adaptation finds Sabrina wrestling to reconcile her dual nature.
Episodes
1. Chapter Twenty-Nine: "The Eldritch Dark"
2. Chapter Thirty: "The Uninvited"
3. Chapter Thirty-One: "The Weird One"
4. Chapter Thirty-Two: "The Imp of the Perverse"
5. Chapter Thirty-Three: "Deus Ex Machina"
6. Chapter Thirty-Four: "The Returned"
7. Chapter Thirty-Five: "The Endless"
8. Chapter Thirty-Six: "At The Mountains of Madness"
Additional information
Duration
8 episodes (7 h 37 min)