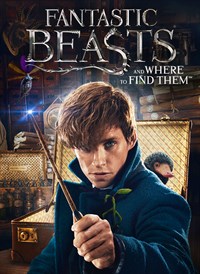 Tomatometer®
Audience
New Yorker

21/11/2016 by Anthony Lane

In all, the movie is a cunning and peppy surprise, dulled only by the news that no less than four sequels await.

The Atlantic

20/11/2016 by Christopher Orr

To its considerable credit, Fantastic Beasts is not the Potter retread it could easily-and very profitably-have been.

The New Republic

18/11/2016 by Will Leitch

The film strains considerably under the weight of all its plot lines-it's never fun to be the movie with the origin story.

Christian Science Monitor

18/11/2016 by Peter Rainer

Rowling has a voluminous imagination and Yates keeps things humming along, although, as was also true of many Potter movies, there is often too much of a good thing.

Globe and Mail

18/11/2016 by Mark Medley

At least the monsters, when compared with their co-stars, have some personality.

Detroit News

18/11/2016 by Adam Graham

A lavish visual feast that nonetheless fails to cast any new spells over its audience.

Dallas Morning News

17/11/2016 by Nancy Churnin

Yates has fresh tricks up his sleeve as he preps for four more planned films. Five years after the last Potter movie, his 20-something fans can age alongside wizards and witches again. Magical.

CNN.com

17/11/2016 by Brian Lowry

Fantastic Beasts and Where to Find Them turns out to be a hyperbolic name for a pretty so-so movie -- one with entertaining passages, but which mostly feels like a big-budget prequel to the better, more cohesive film that's yet to come.

San Diego Reader

17/11/2016 by Matthew Lickona

Set against all the thunderous themes are the antics of a bunch of uninspired imaginary animals - sorry, fantastic beasts - and an astonishingly winning cast that very nearly atones for everything else.

Wall Street Journal

17/11/2016 by Joe Morgenstern

Extravagant creatures of digital descent can't sustain a story that does little more than set the scene for a long string of sequels.

New York Magazine/Vulture

17/11/2016 by David Edelstein

Rowling and her studio are not so much telling a story as erecting another "tentpole," the Hollywood name for a "franchise" that becomes a virus - but is nonetheless regarded as a remedy for red ink. I only wish there were a vaccine.

Toronto Star

17/11/2016 by Peter Howell

Fantastic Beasts offers a good intro to Potter-iffic times ahead, some of them suitably creepy (note the parental guidance rating) as the dark wizard Gellert Grindelwald threatens to bring his evil doings across the Pond from Europe.

Washington Post

17/11/2016 by Michael O'Sullivan

The plot thickens, along with the emotional tension, which was always the best part of the Potter universe, and not the dazzling special effects.

Slate

17/11/2016 by Dan Kois

This is the first time that David Yates-who directed the final four movies in the Potter series-has been defeated while dueling his wizardly material.

St. Louis Post-Dispatch

17/11/2016 by Calvin Wilson

What might have been a cynical cash grab is a delightful romp through new but equally spellbinding territory.

Minneapolis Star Tribune

17/11/2016 by Colin Covert

A thoroughly satisfying, wildly entertaining and highly enjoyable ride from the very beginning to the very end.

Los Angeles Times

17/11/2016 by Justin Chang

It's ... not hard to feel a twinge of skepticism, a nagging suspicion that this busy, proficient, uninspired movie is soliciting not our sense of wonderment so much as our brand loyalty.

Boston Globe

17/11/2016 by Ty Burr

Rowling proves to be a good, sharp hand with dialogue while still having a ways to go in terms of shaping a movie; that said, you can feel her enjoyment in exploring the terrain she has created.

Chicago Reader

17/11/2016 by J. R. Jones

The dull special-effects gloss of a fantasy blockbuster only throws [Fogler's] charming performance into greater relief.

RogerEbert.com

17/11/2016 by Susan Wloszczyna

It is best to simply sit back at some point and enjoy the ride.
No one's rated or reviewed this product yet.