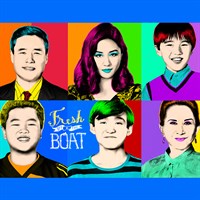 Available on
Xbox One
HoloLens
PC
Mobile device
Xbox 360
Description
It's the 90s and 11 year old, hip-hop loving Eddie just moved to suburban Orlando from DC's Chinatown with his parents. It's culture shock for his immigrant family in this comedy about pursuing the American Dream.
Episodes
6. WWJD: What Would Jessica Do?
7. The Taming of the Dads
8. Where Are the Giggles?
Additional information
Duration
8 episodes (2 h 53 min)