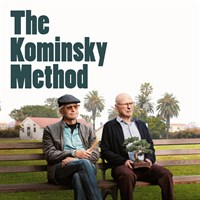 Description
Michael Douglas plays Sandy Kominsky, an actor who years ago had a brief fling with success and is now a revered Hollywood acting coach. Alan Arkin plays his long-suffering agent and friend, Norman.
Episodes
1. Chapter 1: "An Actor Avoids"
2. Chapter 2: "An Agent Grieves"
3. Chapter 3: "A Prostate Enlarges"
4. Chapter 4: "A Kegel Squeaks"
5. Chapter 5: "An Agent Crowns"
6. Chapter 6: "A Daughter Detoxes"
7. Chapter 7: "A String Is Attached"
8. Chapter 8: "A Widow Approaches"
Additional information
Duration
8 episodes (3 h 26 min)