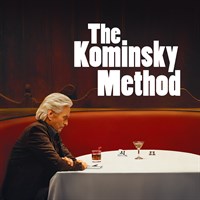 Description
Both funny and poignant, the Golden Globe-winning THE KOMINSKY METHOD is a half-hour single camera comedy created by nine-time Emmy® Nominee Chuck Lorre that stars Academy Award® Winner Michael Douglas. Sandy Kominsky (Douglas) has to navigate what aging looks like without his longtime friend Norman Newlander (Academy Award® Winner Alan Arkin) by his side in the final season of THE KOMINSKY METHOD. Life only becomes more complicated with the arrival of Sandy's ex-wife Roz Volander (Kathleen Turner). The pair's famously volatile relationship is further inflamed when she comes to LA to spend time with their daughter Mindy (Sarah Baker) and her boyfriend Martin (Paul Reiser). The third and final season of THE KOMINSKY METHOD deals with money, death, love, murder, and dreams coming true. In other words, the usual.
Episodes
1. Chapter 17: 'In All the Old Familiar Places"
2. Chapter 18: "You only give me your funny paper"
3. Chapter 19: "And it's getting more and more absurd"
4. Chapter 20: "The round toes, of the high shoes"
5. Chapter 21: "Near, far, wherever you are"
6. Chapter 22: "The fundamental things apply"
Additional information
Duration
6 episodes (2 h 40 min)