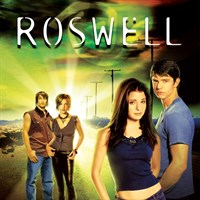 Description
Emmy® Winner Katherine Heigl (Grey's Anatomy) and a hot, young cast, including Shiri Appleby (Charlie Wilson's War), Jason Behr (The Grudge), Brendan Fehr (CSI Miami), and Emilie de Raven (Lost), deliver star-making performances in this groundbreaking TV series. As Max, Isabel and Michael ponder what lies ahead after graduation, the Air Force and FBI close in, and the alien trio realizes that Roswell is no longer the safe haven it once was. But as they prepare to leave their friends and families behind, Liz has a shocking vision that it is not just aliens who are in danger, but humans as well.
Episodes
2. Michael, the Guys, and the Great Snapple Caper
10. A Tale of Two Parties
15. Who Died and Made You King?
17. Four Aliens and a Baby
Additional information
Networks
20th Century Fox
Genres
Drama
Sci-Fi/Fantasy
Duration
18 episodes (12 h 48 min)