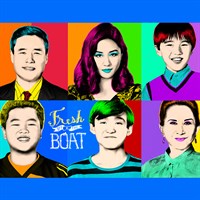 Available on
Xbox One
HoloLens
PC
Mobile device
Xbox 360
Description
Set in the mid-'90s, 12-year-old hip-hop loving Eddie Huang and his family are adjusting to their new lives in suburban Orlando. New schools, new friends, new neighbors, new traditions – yet still holding true to their family values and their continual pursuit of the American Dream.As the Huangs continue to settle into their Orlando cul-de-sac, they excitedly celebrate all of the important holidays with their friends and neighbors – Halloween, Huangsgiving, Christmas, and, of course, Chinese New Year. Dad Louis has turned the once struggling "Cattleman's Ranch" into a successful steakhouse that also offers take-out service. Mom Jessica keeps her boys in line yet still finds time to partake in neighborhood gossip with best friend Honey. And Grandma Huang may be confined to her wheelchair, but she never misses a beat.Eddie and his pre-teen posse are navigating middle-school angst complete with girlfriends, mix tapes and school dances. Middle brother Emery continues to thrive in school and on the tennis court and baby brother Evan can still do no wrong.
Episodes
6. WWJD: What Would Jessica Do?
7. The Taming of the Dads
8. Where Are the Giggles?
Additional information
Duration
8 episodes (2 h 53 min)