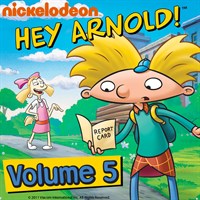 Description
Football head returns in Hey Arnold! Volume 5. Join Arnold's family as they celebrate President's Day on Thanksgiving, Helga offends her classmates, Sid thinks he's killed Principal Wartz, Arnold falls for Lila, everyone things Eugene is a jinx, and more.
Episodes
1. Sid's Revenge/Roller Coaster
2. Grandpa's Birthday/Road Trip
3. Arnold and Lila/Grand Prix
5. Girl Trouble/School Dance
9. Eugene's Birthday/Stinky's Pumpkin
10. Dinner for Four/Phoebe Skips
11. Full Moon/Ms. Pataki, Student Teacher
12. Big Gino/Jamie O in Luv
13. Beeper Queen/Oscar Can't Read?
Additional information
Duration
13 episodes (5 h 9 min)