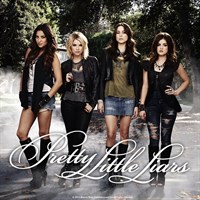 Description
In the seventh and most romantic season of hit drama series Pretty Little Liars, the PLLs band together to unearth answers to the last remaining secrets and take down "Uber A" for good. Andrea Parker joins the cast as a series regular this season, as Mary Drake, the identical twin of Alison's mother, Mrs. DiLaurentis.
Episodes
3. The Talented Mr. Rollins
4. Hit and Run, Run, Run!
12. These Boots Were Made for Stalking
15. In the Eyes Abides the Heart
16. The Glove that Rocks the Cradle
20. Till DeAth Do Us PArt - part 1 & 2 (2 hour)
Additional information
Duration
20 episodes (14 h 55 min)