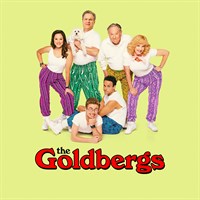 Description
The VCR-loving, mixtape-making, spandex-wearing Goldbergs are back! For geeky and movie obsessed youngest child Adam (Sean Giambrone), he continues navigating high school life and documenting the hilarious and awkward antics of his colorful family. Mom, Beverly (Wendi McLendon-Covey), is at her best when she's meddling, matchmaking and bedazzling her way through life, while dad, Murray (Jeff Garlin), parents from the comfort of his recliner in his underpants. Oldest sister Erica (Hayley Orrantia) is finally breaking away from her family and goes off to college. Then there's middle child, Barry (Troy Gentile), who's just as in touch with his emotions as he is with his sick rap skills and commiserates with JTP member Geoff Schwartz (Sam Lerner) as they deal with their older loves leaving for college. Rounding out the brood is beloved grandfather, Al "Pops" Solomon (George Segal), the wild man of the clan, a shameless Don Juan who enjoys family time with his grandkids almost as much as his weekly massages. This season finds the siblings fighting off huggies, snuggies and nubbies as they navigate what it means to grow up as a Goldberg.
Episodes
2. The Prettiest Boy In School
3. It's All About Comptrol
8. Bevy's Big Murder Mystery Party
11. The Lasagna You Deserve
17. Who's Afraid of Brea Bee?
Additional information
Duration
22 episodes (7 h 54 min)