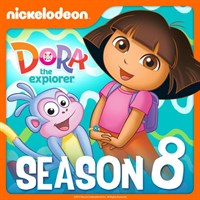 Description
Adventure is never far away in the complete Season 8 collection of Dora the Explorer! Join Dora as she outskates the Ice Witch, stops a runaway train, teams up with Perrito to rescue Boots, rides a magical roller coaster with Abuela and MORE! Vámonos!
Episodes
1. Dora's Super Soccer Showdown
3. Catch that Shape Train
4. Verde's Birthday Party!
5. Dora and Perrito to the Rescue
6. Riding the Roller Coaster Rocks
8. Dora's Great Roller Skate Adventure
9. Dora's and Sparky's Riding Adventure!
10. Dora's Museum Sleepover Adventure
11. Dora's Ice Skating Spectacular
12. Dora's Rainforest Talent Show
13. Dora and Diego in the Time of Dinosaurs
Additional information
Duration
13 episodes (5 h)