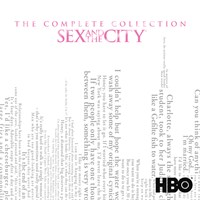 Description
How do young (or not-so-young) single women and men meet the challenge of finding a mate? This signature HBO comedy series stars Sarah Jessica Parker as a thirtysomething writer whose personal life and friendships are fodder for her weekly column. Kim Cattrall, Kristin Davis and Cynthia Nixon co-star.
Episodes
4. Valley of the Twenty-Something Guys
5. The Power of Female Sex
9. The Turtle and the Hare
12. Oh Come All Ye Faithful
13. Take Me Out to the Ballgame
16. They Shoot Single People, Don't They?
17. Four Women and a Funeral
20. The Man, The Myth, The Viagra
29. Twenty-Something Girls vs. Thirty-Something Women
31. Where There's Smoke...
33. Attack of the Five Foot Ten Woman
34. Boy, Girl, Boy, Girl...
35. No Ifs, Ands or Butts
41. Running with Scissors
42. Don't Ask, Don't Tell
45. Hot Child in the City
47. What Goes Around Comes Around
49. The Agony and the 'Ex'-tacy
52. What's Sex Got to Do with It?
56. My Motherhood, My Self
59. HAETTE, WUERDE, SOLLTE
71. Plus One Is the Loneliest Number
78. Pick-a-Little, Talk-a-Little
79. Lights, Camera, Relationship
80. Hop, Skip, and a Week
81. The Post-It Always Sticks Twice
83. A Woman's Right to Shoes
90. Out of the Frying Pan
93. An American Girl in Paris, Part Une
94. An American Girl in Paris, Part Deux
Additional information
Duration
94 episodes (1 day 20 h 44 min)