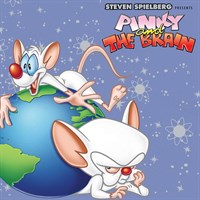 Available on
Xbox One
HoloLens
PC
Mobile device
Xbox 360
Description
Two lab mice team up in pursuit of world domination; however, as they plot new schemes in their own wacky way, they unwittingly sabotage their plans. But Pinky and The Brain are dedicated: As they repeatedly escape from ACME lab, it becomes evident just how determined these two really are.
Episodes
1. Leggo My Ego/Big in Japan
2. But, That's Not All Folks
3. Operation Sea Lion/You Said A Mouseful
4. The Tailor & The Mice/Bah, Wilderness
5. Pinky at the Bat/Schpiel-Borg 2000
7. Brainie the Pooh/Melancholy Brain
9. Brain's Night Off/Beach Blanket Brain
10. The Family That Poits Together, Narfs Together
11. Pinky's Turn/Your Friend, Global Domination
12. You'll Never Eat Food Pellets In This Town Again!
14. Whatever Happened to Baby Brain/Just Say Narf
15. Pinky's POV/The Really Great Dictator/Brain Food
16. Brainwashed, Part 1: Brain, Brain Go Away
17. Brainwashed, Part 2: I Am Not A Hat!
18. Brainwashed, Part 3: Wash Harder
19. To Russia...With Lab Mice/Hickory Dickory Bonk
20. The Pinky & The Brain Reunion Special
21. A Legendary Tail/Project Brain
Additional information
Genres
Animation
Comedy
Family/Children
Duration
22 episodes (7 h 50 min)