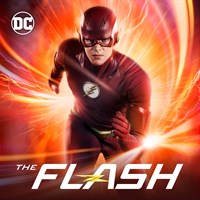 Description
When young Barry Allen's mother was murdered and his father unjustly jailed for the crime, Barry was adopted by investigating Detective Joe West and raised alongside West's daughter, Iris. Now a Central City police scientist, Barry is suddenly charged with the power to move at super speeds after an accident at the S.T.A.R. Labs Particle Accelerator facility. With the help of the research team there—including visionary scientist Harrison Wells, biogenetics expert Caitlin Snow and the upbeat Cisco Ramon—Barry tests his evolving abilities against a rogues' gallery of villains and metahumans, many of whom have also been altered by the accident. When Barry aka The Flash discovers how to travel through time, his mission to help others picks up speed…and becomes extremely dangerous. Follow The Flash into the past, present and future as he battles metahuman forces to keep his loved ones safe in Seasons One through Five.
Episodes
1. City of Heroes (Pilot)
3. Things You Can't Outrun
9. The Man in the Yellow Suit
10. Revenge of the Rogues
11. The Sound and the Fury
19. Who Is Harrison Wells?
24. The Man Who Saved Central City
27. The Fury of Firestorm
28. The Darkness and the Light
32. Running to Stand Still
33. Legends of Yesterday (Arrow S4 episode)
35. The Reverse-Flash Returns
57. Borrowing Problems From the Future
60. Attack on Gorilla City
61. Attack on Central City
66. The Once and Future Flash
74. Elongated Journey into Night
78. Crisis on Earth-X, Part 3
80. The Trial of The Flash
81. The Elongated Knight Rises
82. Honey, I Shrunk Team Flash
91. Harry and the Harrisons