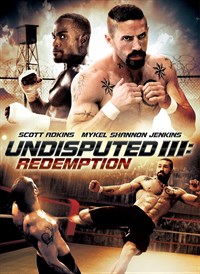 Undisputed III: Redemption
Scott Adkins returns as Uri Boyka, an inmate trapped in the toughest prison in the world and ready to make his comeback in a lethal boxing competition for a shot at freedom.
Once you select Rent you'll have 14 days to start watching the film and 48 hours to finish it.
Undisputed III: Redemption
Available on
Xbox One
HoloLens
PC
Mobile device
Xbox 360
Description
Eight elite fighters – prisoners from maximum security prisons around the world – are brought together by a powerful underground gambling syndicate for a secret, survival-of-the-fiercest battle competition. The prize: freedom for the champion…and a payday of millions to the organizers. Except the syndicate really doesn't plan on allowing anyone to walk free. Scott Adkins (the fearsome Weapon XI in X-Men Origins: Wolverine) returns as Boyka in a spin-kicking, iron-fisted, ground-and-pound fury of martial arts mastery. With the odds against him overwhelming, Boyka will take on the syndicate his way. If his gambit works, it might send the whole scheme crashing down around them.
Additional information
Directors
Isaac Florentine
Size
5.7 GB (1080p HD)
2.69 GB (720p HD)
2.02 GB (SD)
Size
5.7 GB (1080p HD)
2.69 GB (720p HD)
2.02 GB (SD)
| | |
| --- | --- |
| Windows | Windows 8, Windows 8.1, Windows 10 or later |
| Xbox | Xbox 360, Xbox One, Xbox One S, Xbox One X |
| Mobile | Windows Phone 8, Windows Phone 8.1, Windows 10 or later |
Portions of content provided by Tivo Corporation - © 2020 Tivo Corporation