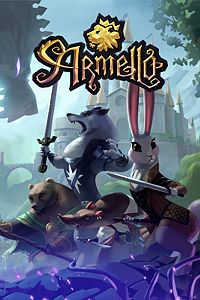 Armello
Published by

League of Geeks

Price

On sale information

Product distribution
Description
Armello is a grand swashbuckling adventure that combines three styles of play; The deep tactics of card games with the rich strategy of table top board games, combined with a character role-playing system. As a hero from one of the clans of Armello, you'll quest, scheme, hire agents, explore, vanquish monsters, cast spells and face off against other players, with one ultimate end goal in mind — storming the palace and becoming King or Queen of Armello. The Kingdom of Armello is as dangerous as it is beautiful, perils, banes and bandits hide around every corner and a spreading corruption known as the Rot is leaving no creature untouched.
Available on
Capabilities
Multiplayer Online- 2 to 4 players
Additional info
Published by
League of Geeks

Release date
2016-08-30T00:00:00.0000000Z
Approximate download size
1.79 GB
Installation
Install on your home Xbox One console plus have access when you're connected to your Microsoft account.


Sign in to report this game to Microsoft